Playcare is an innovative way to provide a wide variety of activities and experiences designed specifically to stimulate your dog's curiosity, build social skills, confidence, good manners and behavior, and let them have lots of fun!!! We offer activities for dogs of all sizes, activity levels, and personalities- whether shy, outgoing, very active, or a cuddler. We are specially trained in dog language and behavior interpretation to make their introduction and activities fear free, and tailored to their unique personality. We provide them with the attention and care they need while making new friends, learning new skills and enjoying their time with us.
HOW LONG ARE PLAYGROUPS?
Each playgroup is assembled with dogs of similar personalities, sizes, and activity levels, and run approximately 50 minutes continuously throughout the day. Each dog moves from one activity area to another, interspersed with short rest/cool off periods, and time for a drink and snack.
HOW MANY TIMES DO THEY PLAY?
Because we have over 42,000 square feet of outdoor activity space, and 3,000 square feet of climate controlled play space, your dog will move from one activity zone to another based on the playcare level you choose for them, the other friends who have joined us that day, and where your pet feels most comfortable. They are supervised continuously by our playcare team.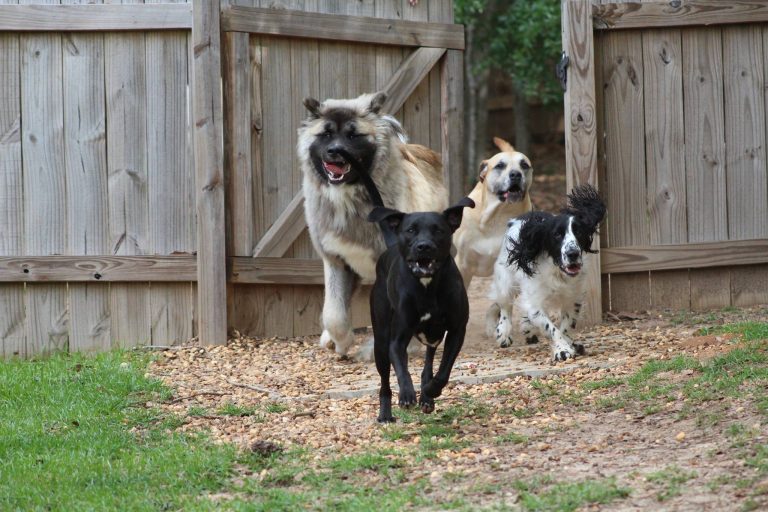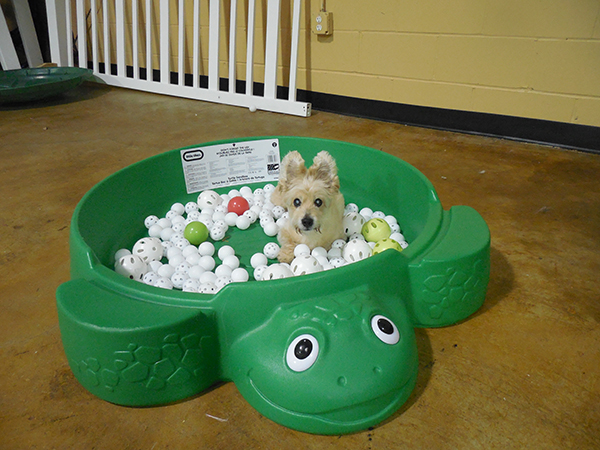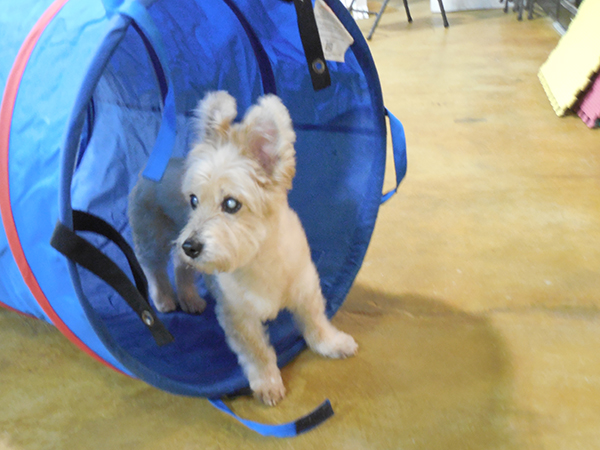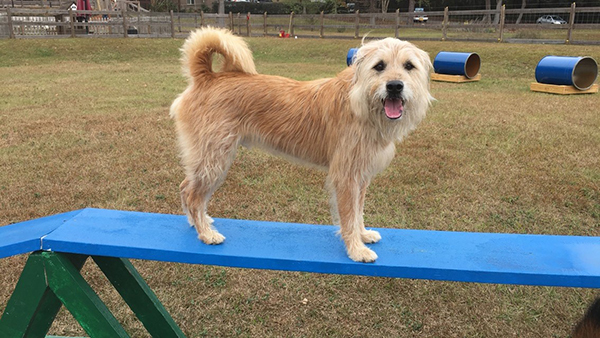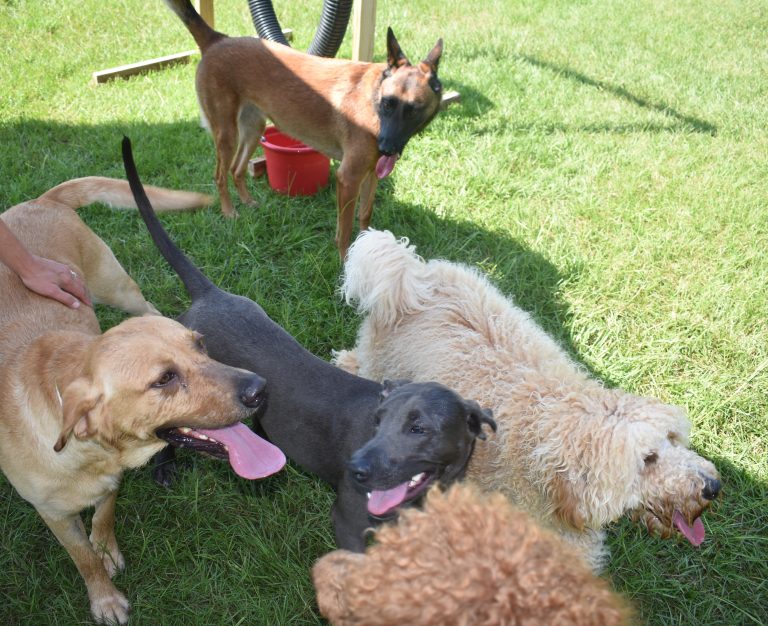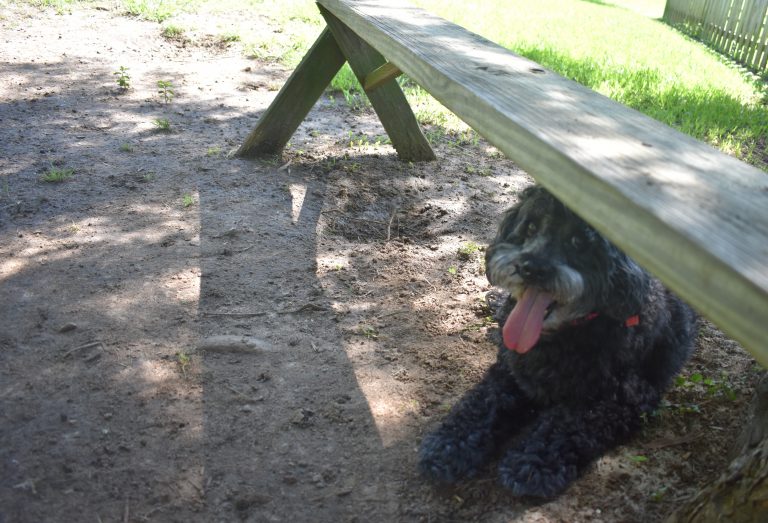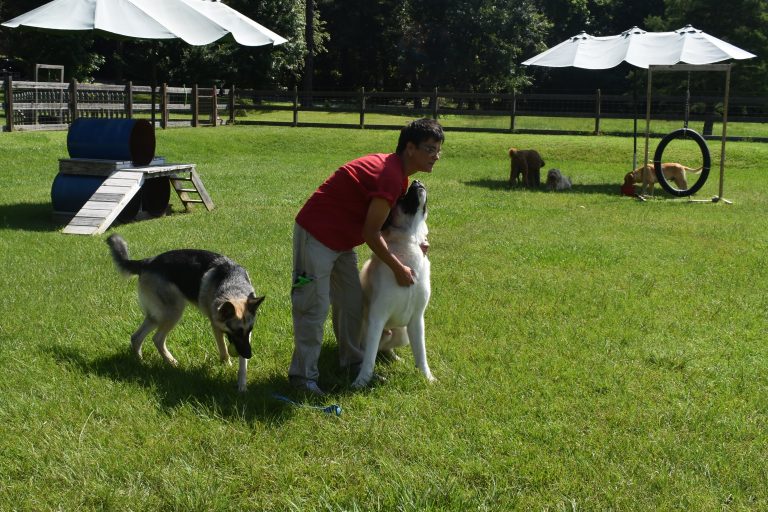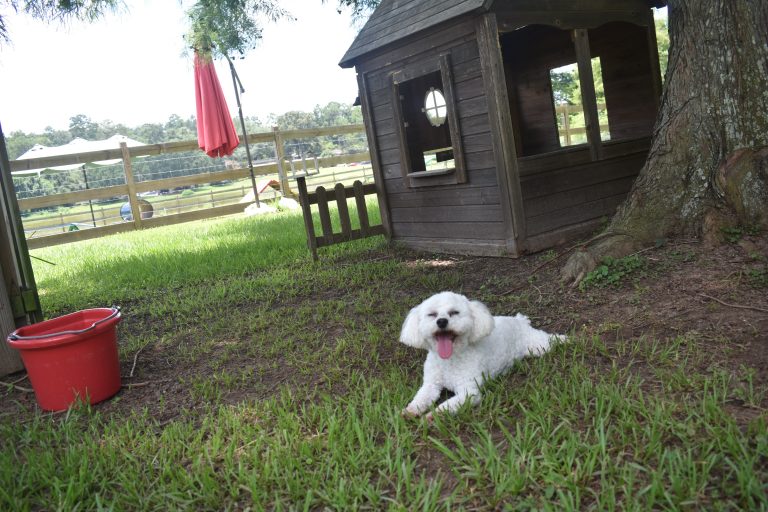 WHAT IS "THE SPLASH ZONE"?
Our water park designed just for dogs! A supervised water play area composed of a zero entry splash pad equipped with fountains, bubblers, deck jets, and a waterfall that flows into a 42" deep jetted Lazy River so even the largest dogs can really do some swimming. The Splash Zone is heated to 75 degrees all year round, and is disinfected with salt generated chlorine and water scrubbers, so it is perfect for the most sensitive skin. Splash Zone playgroups run 45-60 minutes per session and everyone gets a fresh water rinse and towel dry when they come out. (Full bath and grooming is also available at our Pet Spa).
WHAT OTHER ACTIVITIES ARE AVAILABLE?
In addition to The Splash Zone, we have over 42,000 square feet of outdoor play space, featuring a fully equipped Agility Park, a field just to play fetch and run our legs off, and a tree filled backyard to hang out in the shade. Our indoor training center is also fully equipped with "practice size" agility equipment, ball pits, teeter totter, training jumps, toys and balls of every size, and doggie puzzles and games.
We also offer a Doggie Lounge that gives your dog the opportunity to relax with friends while they lay on couches, eat snacks and watch TV with friends on our flat screen TV. It is also a favorite "rainy day" spot for our thunderstorm fearful friends, because it is soundproofed on all six sides, so the boomers can't be heard. While in the lounge our trained playcare team members make sure out guests get lots of love and attention.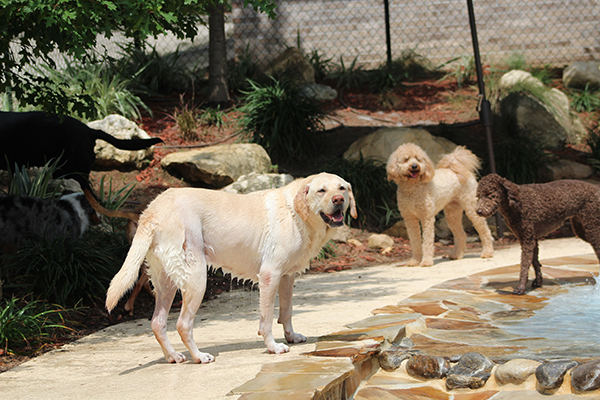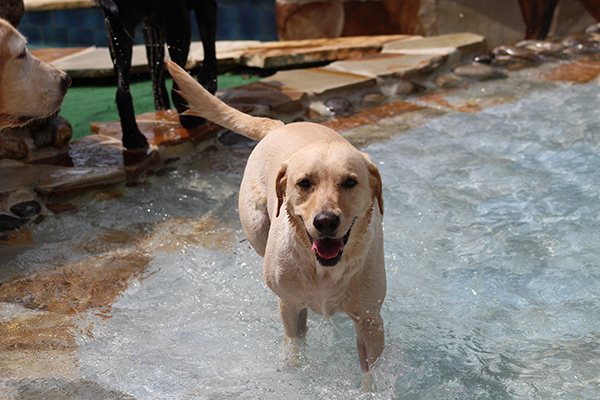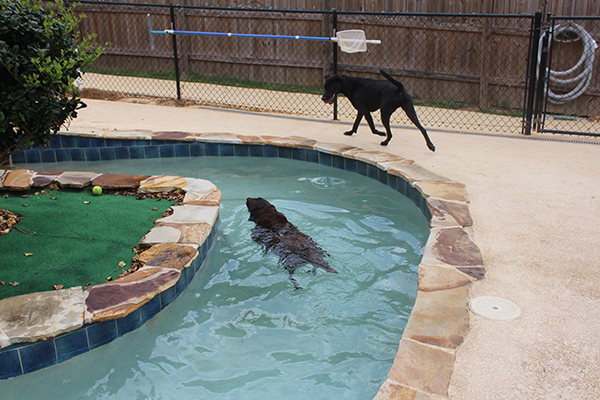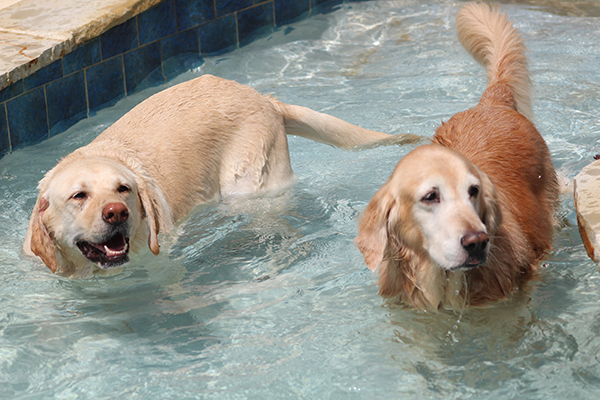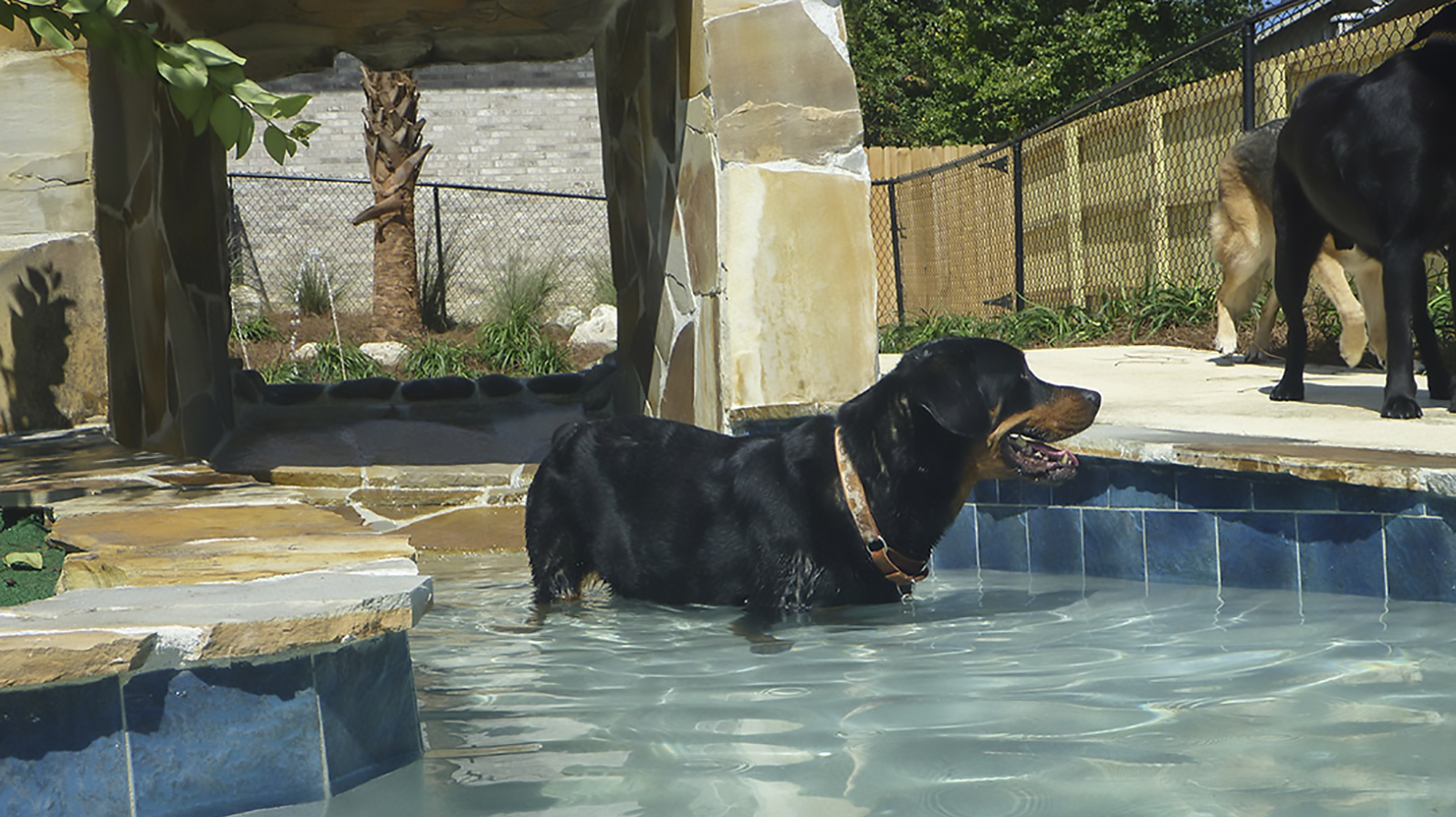 PLAYCARE LEVELS & PRICING:
We offer three levels of Playcare that includes Multiple Group Interactions throughout the day and a minute special activity of your choice, such as: 
a. Obedience Skill Work 
b. Sensory Stimulation
c. Physical Conditioning
d. Agility Activities 
These are done individually or within a small group.

1. Bronze: Include only One Special Activity
2. Silver: Includes Two Special Activities
3. Gold: Includes all or any activities that your pet enjoys, including romps in the Splash Zone if they enjoy the water. If they don't like water, we have alternative activities available for the to get the full Golden Experience. 
**This includes a Fresh Water rinse and Towel Dry
** Please contact us for more information on availability and pricing.
PLAYCARE BRONZE:
Full day > 5 hours          $30.00
Half day < 5 hours          $20.00
Add a Pet (Full day)       $24.00
Add a Pet (Half day)       $18.00
PLAYCARE SILVER:
Full day > 5 hours          $35.00
Half day < 5 hours         $25.00
Add a Pet (Full day)       $28.00
Add a Pet (Half day)       $22.00
PLAYCARE GOLD:**
Full day > 5 hours          $45.00
Half day < 5 hours         $30.00
Add a Pet (Full day)       $36.00
 Add a Pet (Half day)       $27.00
**Includes fresh water rinse & towel dry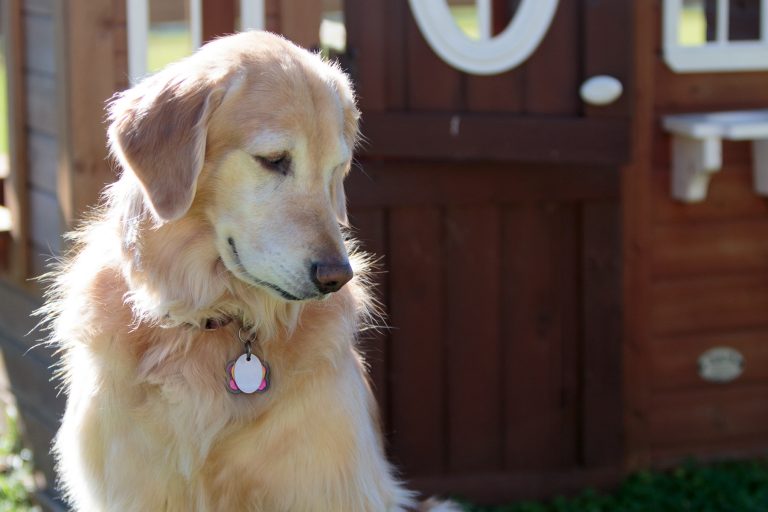 Because we are a "One Health" facility we require that dogs or cats in our facilities meet the following parameters:

Dogs in our facility must be up to date on Rabies, DA2LPP, and bordetella vaccines.
Dogs must be on heartworm prevention which kills intestinal parasites or have a negative intestinal parasite exam within the last three months and be free of external parasites.
We require felines in our facility to be up to date on FVRCP and Rabies.
Cats must test negative on FELV/FIV. They must have had a negative intestinal parasite exam within the last three months as well as being free of external parasites.
In-home care does not have these requirements. If you have concerns, please contact us.