Give Your Pets a Stay-cation!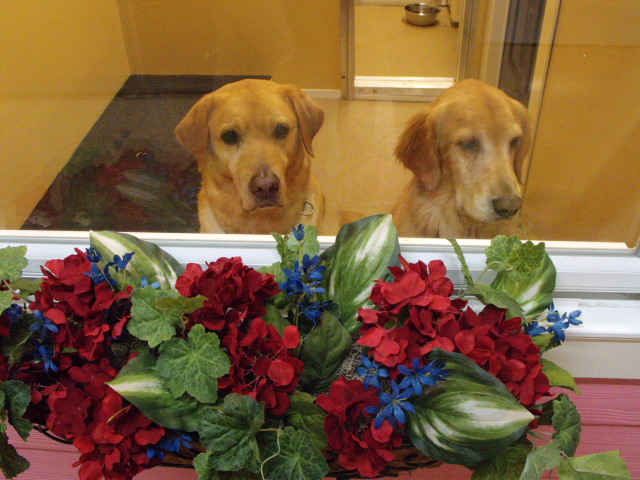 At Home Vet Care has the capacity to meet all of your pet Staycare needs. Our facility features 8 luxury adjoining suites for families and large dogs and 63 lodges and villas. All lodges, villas, and suites are outfitted with raised beds and comfy resting mats. Our suites are designed like individual cottages complete with front doors, windows and natural light. All are climate controlled and sound proof to make them quiet, comfortable, and homelike.
We provide two premium quality meals and 2 snacks daily with multiple "potty breaks" in our fully enclosed, secure, dog potty areas with morning and afternoon trips to our backyard for 40 – 50 minutes to stretch our legs and play with friends. We will also gladly feed "parent provided" food and treats according to your instructions. Medications, including injections, can be administered for an additional nominal fee.
Due to the interactive nature of our Staycare/Playcare program, all new pets requesting our services must submit all vaccine information, insight into the dog's behavior, or a letter from a prior veterinarian or daycare indicating proper suitability, prior to their admission.
All reservations for Staycare must be in advance, and guaranteed with a credit card at time of booking.
* We reserve the right to alter Staycare lodging and/or Playcare activities based on individual dog characteristics.
Do you need to have your furry family member stay with AHVC for longer than a week? We offer discounted rates for stays over 15 days!
DUE TO RECOMMENDATIONS FROM AVMA, AAFP, FVMA WE ARE UNABLE TO FEED OR HANDLE RAW DIETS FOR ANY PET IN OUR CARE. WE APPRECIATE YOUR UNDERSTANDING.
For Dogs
Choose the right Size
Standard Villa
36ft2 of floor space
For dogs under 50lbs
Premium Villa
48ft2 of floor space
For dogs between 51 and 69lbs
Lodge
18.75ft2 of floor space
For dogs under 25lbs
Additional Dog
Suite
20ft2 of floor space
For dogs under 100lbs
Family Suite
30ft2 of floor space
No size restrictions
Quiet Cottages
24ft2 of floor space
No size restrictions
Sound proofed for dogs with storm anxiety
For Cats
How long are you staying?
Cat Condo
78ft2 of floor space
No size restrictions
Add Playcare
Community Playcare
Supervised playgroups in our climate controlled training activity center, in our outdoor triple fenced agility park, or our play field. Dogs are grouped by personality and playstyle and participate in multiple playgroups throughout the day. We also focus on developing and reinforcing "house manners" such as walking politely on a leash and going in and out of their resting places calmly.
Premium Playcare
Designed for dogs who are higher energy, enjoy the waterpark, and are ready for some new challenges. Individual and small group training is included each day, and intermediate and advanced obedience skills such as back, heel, "load up," over, under, hold, and "watch me" are practiced. Specific skill requests can be accommodated. Training time is alternated with reinforcing social skills, enriching activity time, and group play.
Vaccine Requirements
Because we are a "One Health" facility we require that dogs and cats have the following vaccines:
Dogs:
Dogs in our facility must be up to date on Rabies, DA2LPP, and Bordetella vaccines. They must also be on a heartworm prevention which kills intestinal parasites or have a negative intestinal parasite exam within the last three months.
Cats:
Cats in our facility must be up to date on FVRCP and Rabies. They must also test negative on FELV/FIV, and have had a negative intestinal parasite exam within the last three months.
All pets must be free of external parasites such as fleas, ticks, earmites, and lice.